Do you find yourself dreaming of a summer getaway to sunny South Florida? If you're looking for some of the best beach fort lauderdale, pack your beach bag and jet off to Fort Lauderdale. With miles of coastline along the Atlantic Ocean, this vibrant area provides endless opportunities for those who seek a scenic paradise. From quiet stretches of white sand to bustling boardwalks with rides that light up the sky, here is where you want to experience all aspects of South Florida beach life! 
Whether you're looking for a peaceful getaway or a lively day at the beach, here are the 10 best beaches in Fort Lauderdale that you can't miss.
1. Las Olas Beach: Map
Discover the breathtaking beauty of Las Olas Beach in Fort Lauderdale, Florida. This coastal gem offers the perfect balance of natural wonders and urban excitement. Picture yourself relaxing on powdery white sands and dipping into crystal-clear blue waters. Las Olas Beach is a haven for sunbathing, swimming, and thrilling water sports. And the best part? It's just steps away from the lively Las Olas Boulevard.
This vibrant street is known for its unique shops, mouthwatering restaurants, captivating galleries, and entertaining venues. Immerse yourself in the local culture while enjoying the tranquility of the beach. With so much to do and see nearby, Las Olas Beach is a must-visit destination for anyone craving relaxation, adventure, and the true essence of Fort Lauderdale.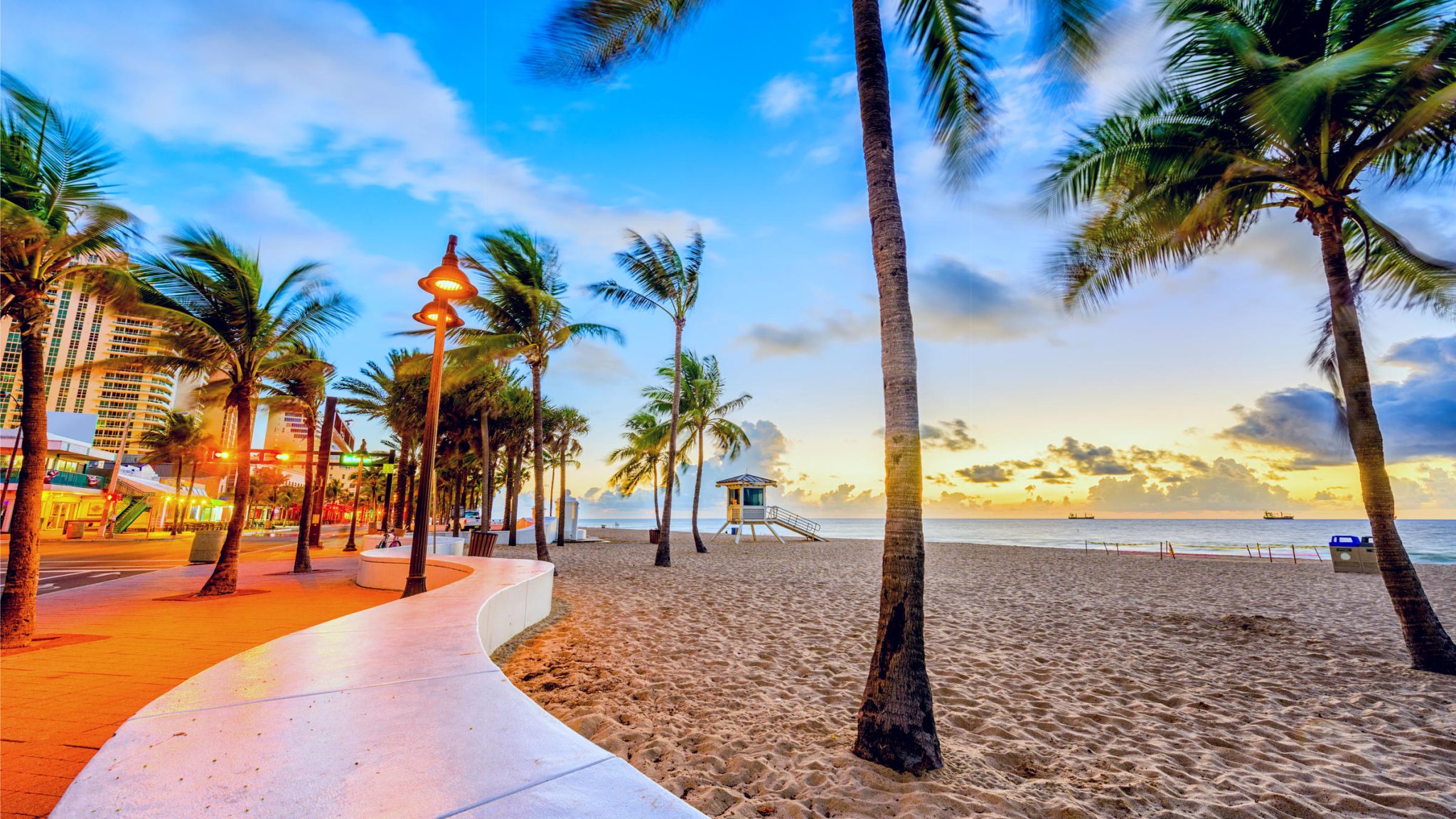 2. Fort Lauderdale Beach: Map
Escape to the breathtaking shores of Fort Lauderdale Beach. With its powdery sands, turquoise waters, and vibrant atmosphere, this premier coastal destination is a haven for sunseekers and water sports enthusiasts. Stroll along the picturesque promenade lined with palm trees, soak up the beauty of a mesmerizing sunset, and immerse yourself in the natural wonders of the nearby Hugh Taylor Birch State Park. Indulge in beachfront parks, picnic spots, and dining and entertainment options.
Discover the perfect blend of relaxation and adventure at Fort Lauderdale Beach, where Florida's coastal charm comes to life.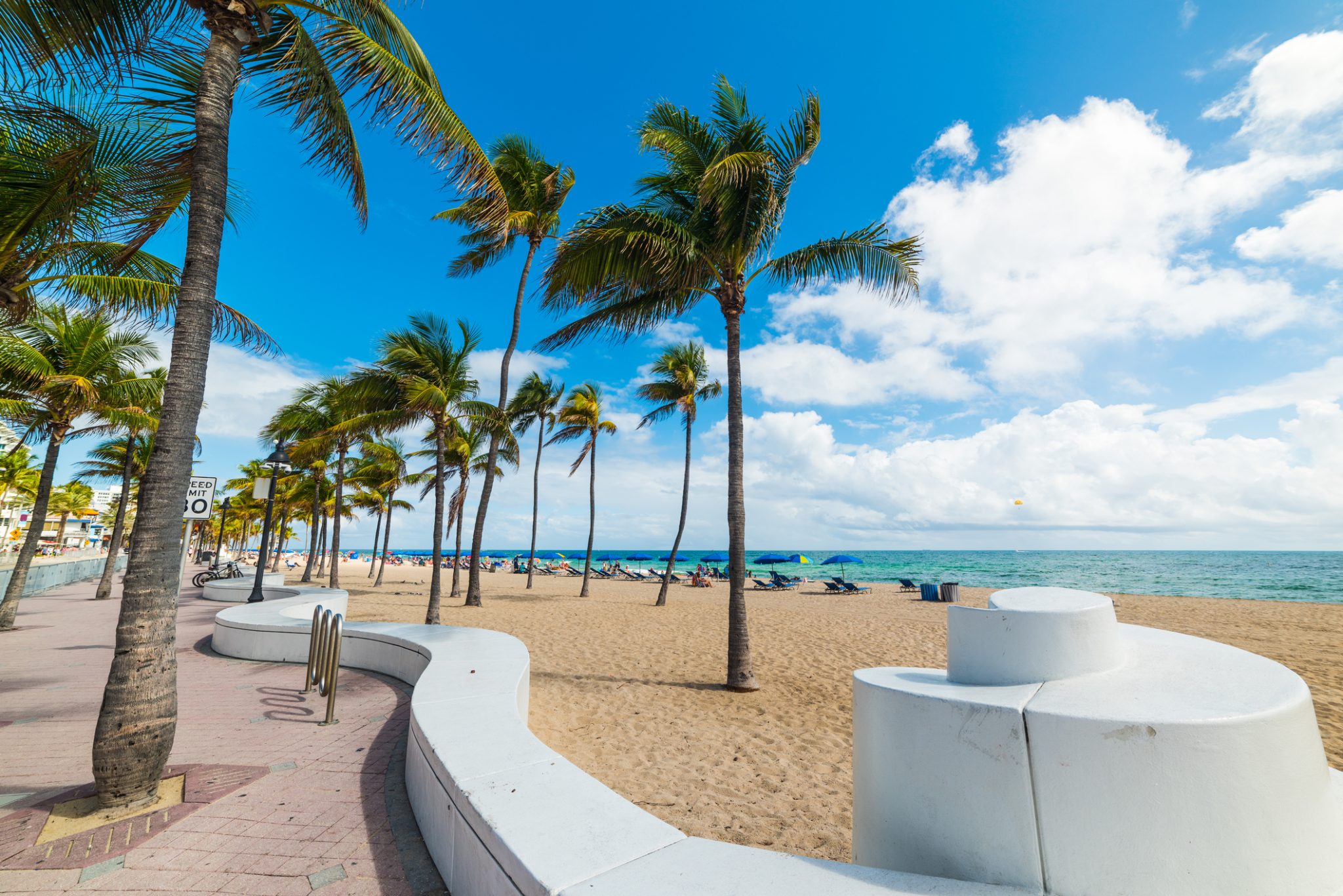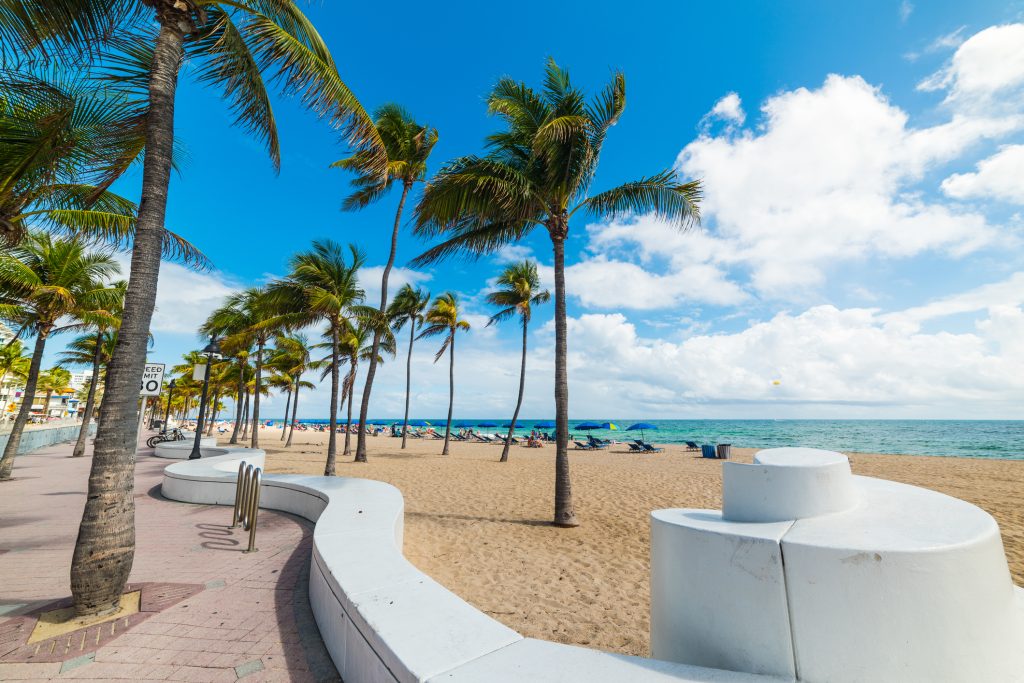 3. Hollywood Beach: Map
Experience the captivating charm of Hollywood Beach, located in the sunny city of Hollywood, Florida. This coastal gem is the perfect destination for relaxation and entertainment. Immerse yourself in the pristine sandy shores and turquoise waters this beach is known for. Stroll along the iconic Hollywood Beach Broadwalk, a 2.5-mile brick-lined promenade filled with shops, restaurants, cafes, and entertainment venues. Whether you're a family, a beach lover, or a vacationer, Hollywood Beach has something for everyone.
Enjoy amenities like bike rentals, beach volleyball courts, and picnic areas, making it a leisure and active pursuits hub. Don't miss the chance to explore the Anne Kolb Nature Center, where you can discover the fascinating coastal mangrove ecosystem and encounter native wildlife. Hollywood Beach captures the essence of Florida's coastal charm, offering various activities and experiences for travelers.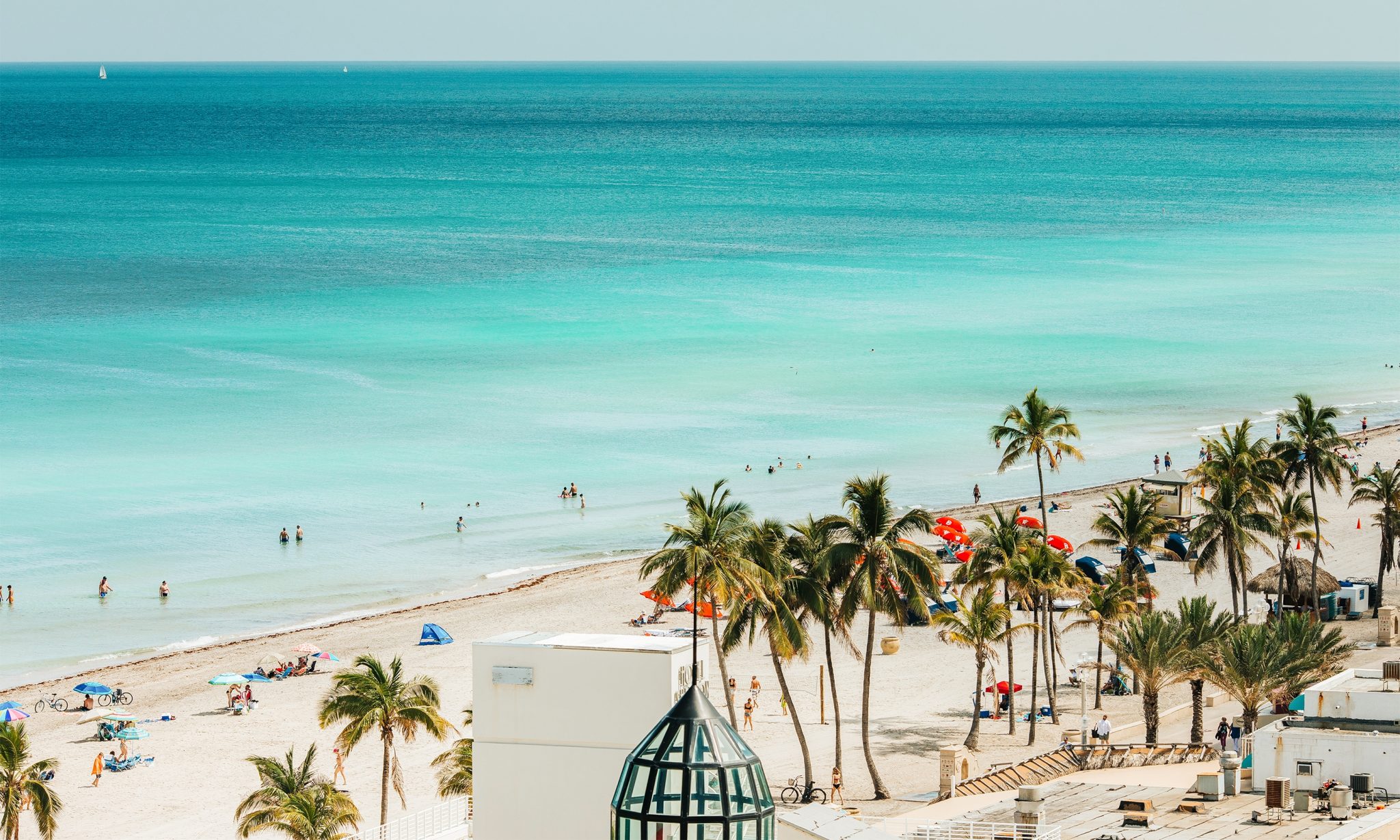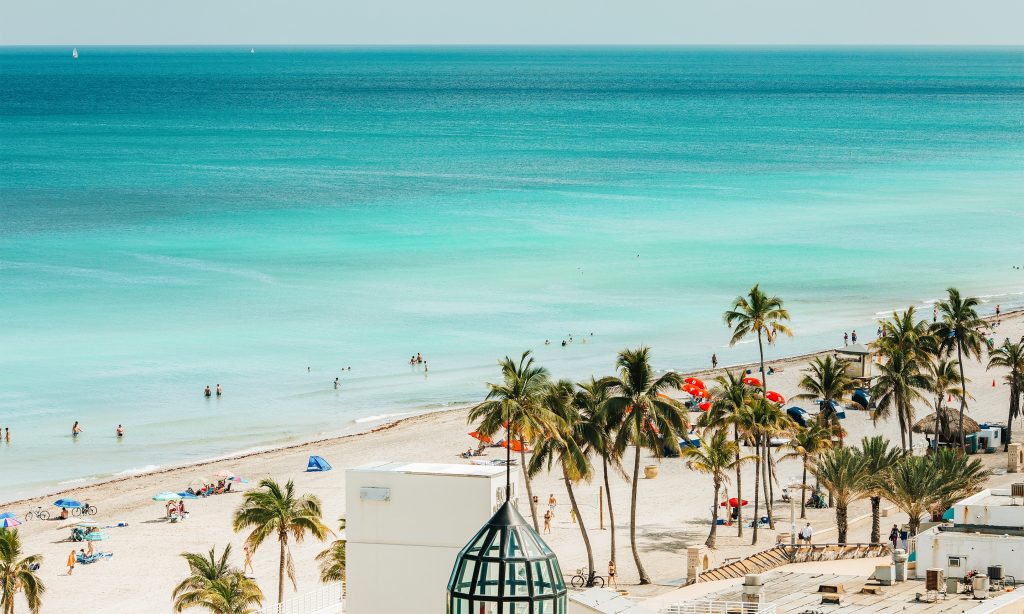 4. Dania Beach: Map
Discover the hidden gem of Dania Beach in sunny Broward County, Florida. This destination is a true paradise with crystal-clear waters, pristine sandy shores, and an array of oceanfront dining options. Relax, soak up the sun on a rented beach chair, or take a refreshing dip in the inviting waters. Thrill-seekers can pump their adrenaline with exciting water sports, from parasailing to jet skiing. When hunger strikes, explore the bustling commercial district with its delightful shops and restaurants offering a taste of diverse cuisines. Escape the chaos of city life and find tranquility at Dania Beach.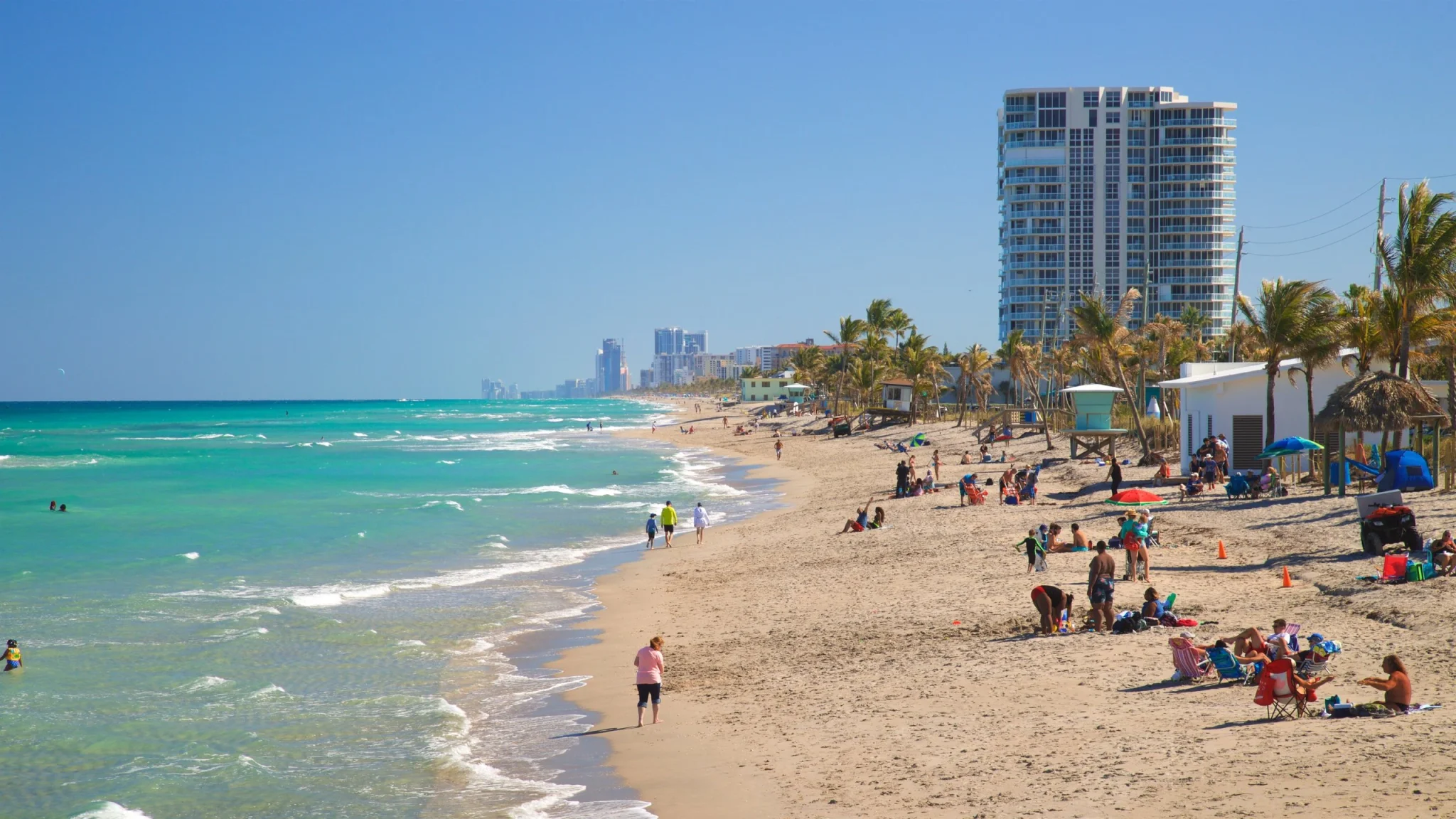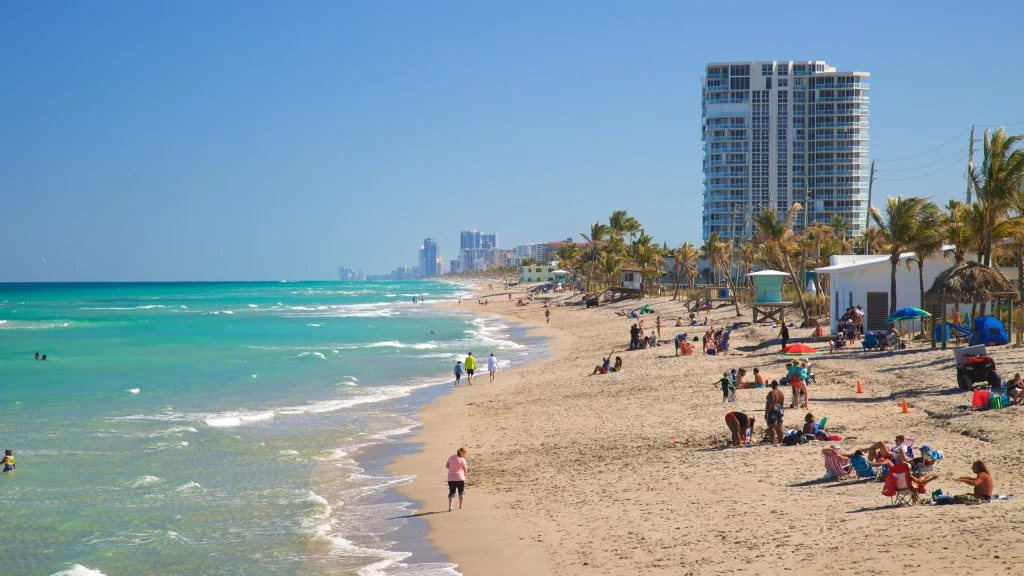 5. Pompano Beach: Map
Experience the captivating coastal charm of Pompano Beach in Broward County, Florida. Discover pristine shorelines and endless recreational opportunities in this dynamic destination. Indulge in swimming, sunbathing, and thrilling water sports on the powdery sands, and inviting Atlantic waters. Don't miss the iconic Pompano Beach Pier, a haven for anglers and sightseers with its panoramic ocean views.
Explore lush parks, scenic golf courses, and picturesque nature preserves like the enchanting Fern Forest Nature Center. When dining, savor the flavors of local seafood eateries and upscale restaurants. With its diverse attractions and vibrant local culture, Pompano Beach guarantees a memorable experience for every interest and preference.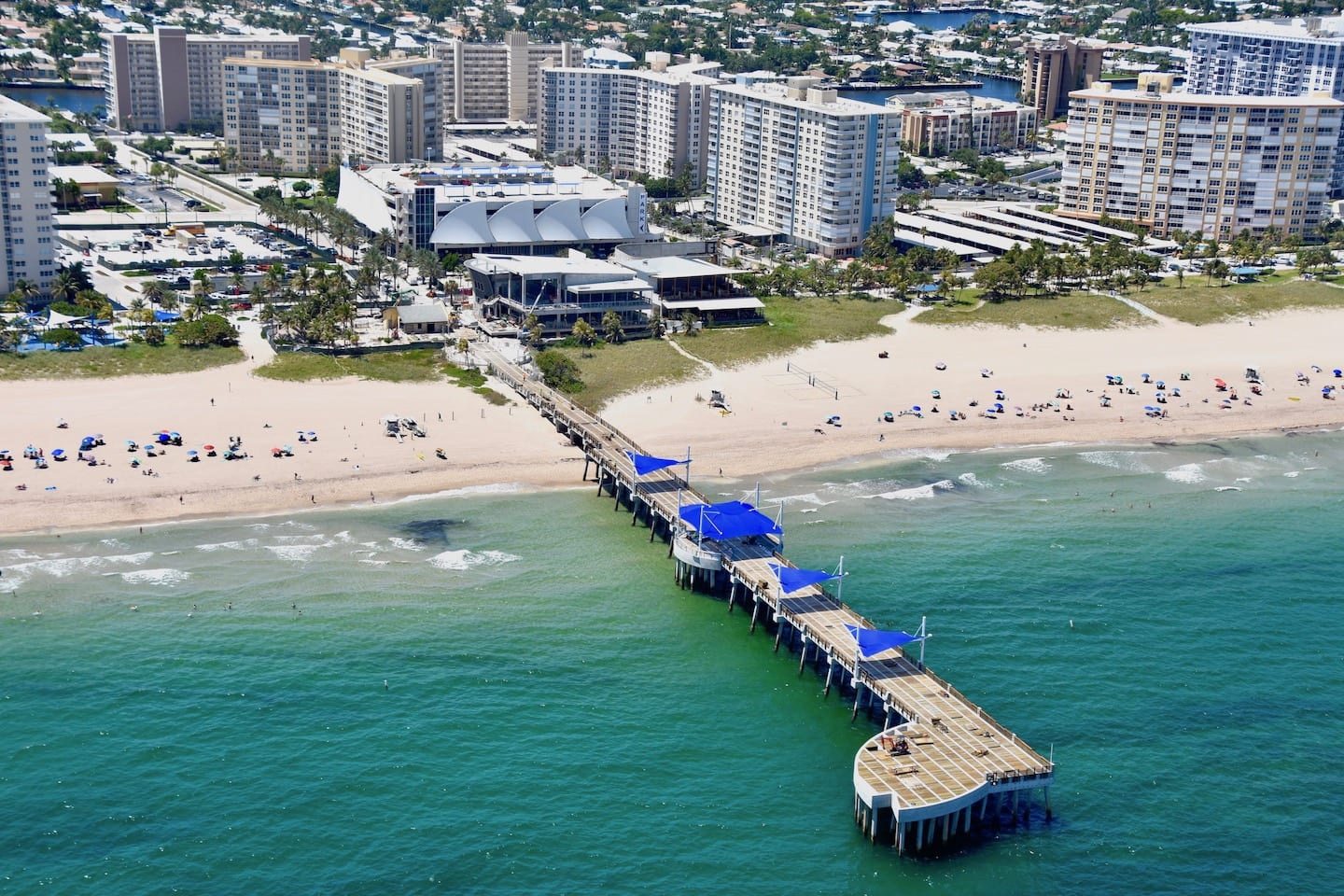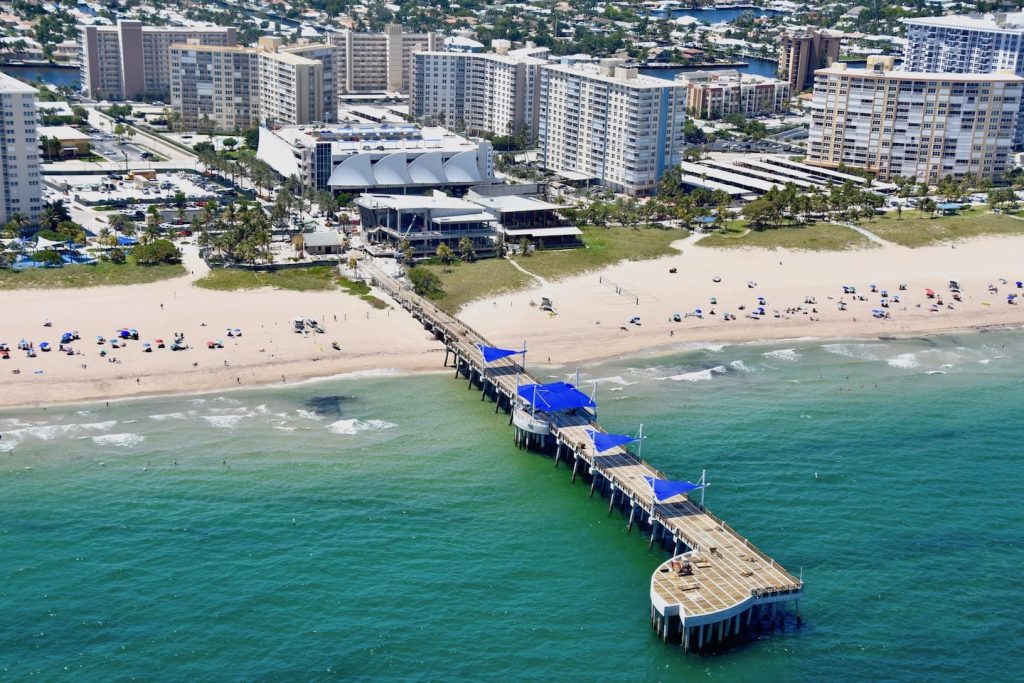 6. Lauderdale-By-The-Sea: Map
Discover the hidden gem of Lauderdale-By-The-Sea in sunny Florida. This quaint seaside town in Broward County is known for its laid-back vibe and picturesque beaches. Whether you're a beach lover or a fishing enthusiast, this charming destination has something for everyone. Stroll along the beachfront promenade, lined with charming shops and cafes, or dive into the rich underwater world of its coral reefs. With its pristine beaches and welcoming atmosphere, Lauderdale-By-The-Sea is the perfect coastal retreat for those seeking a tranquil yet engaging getaway.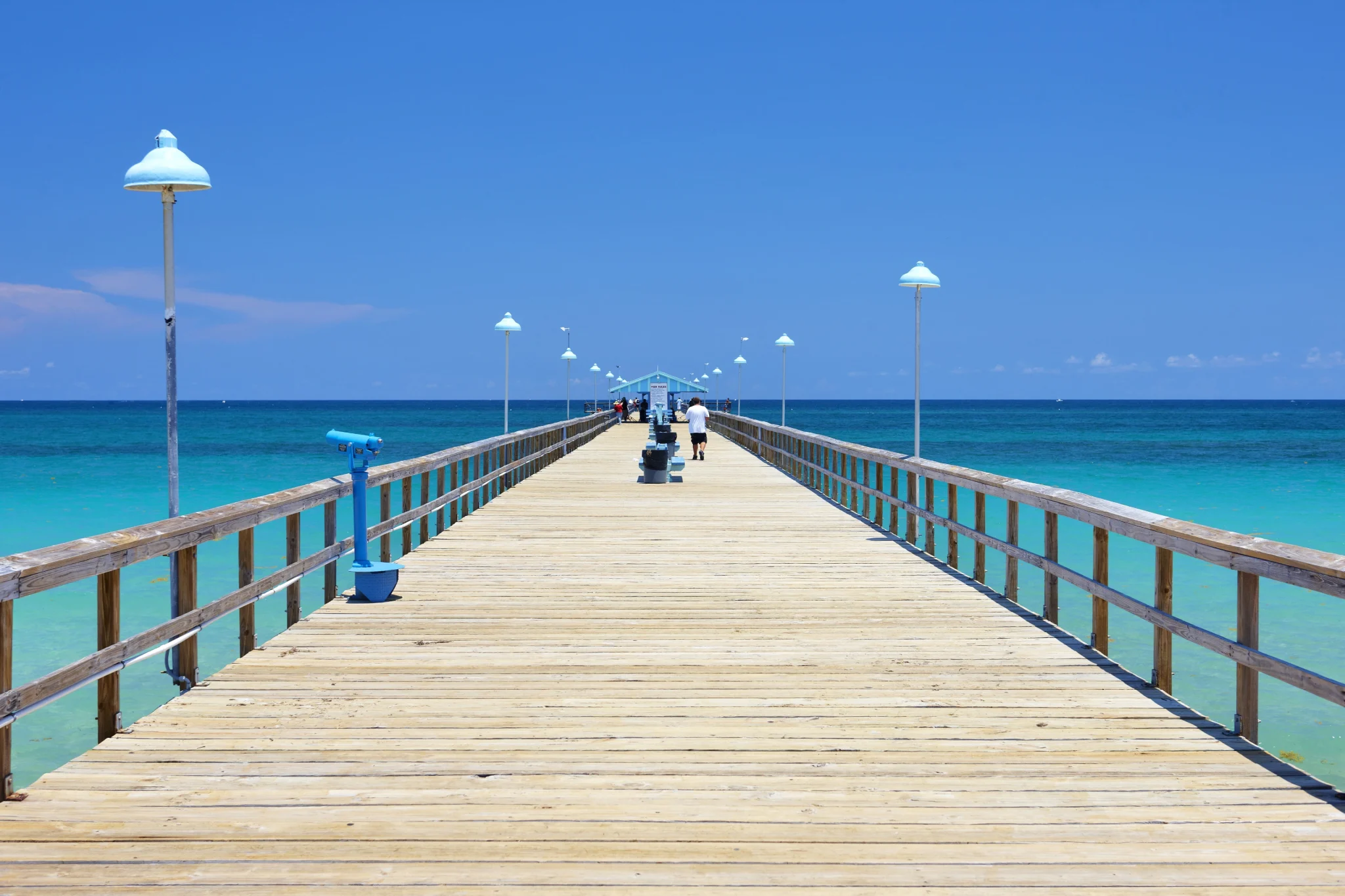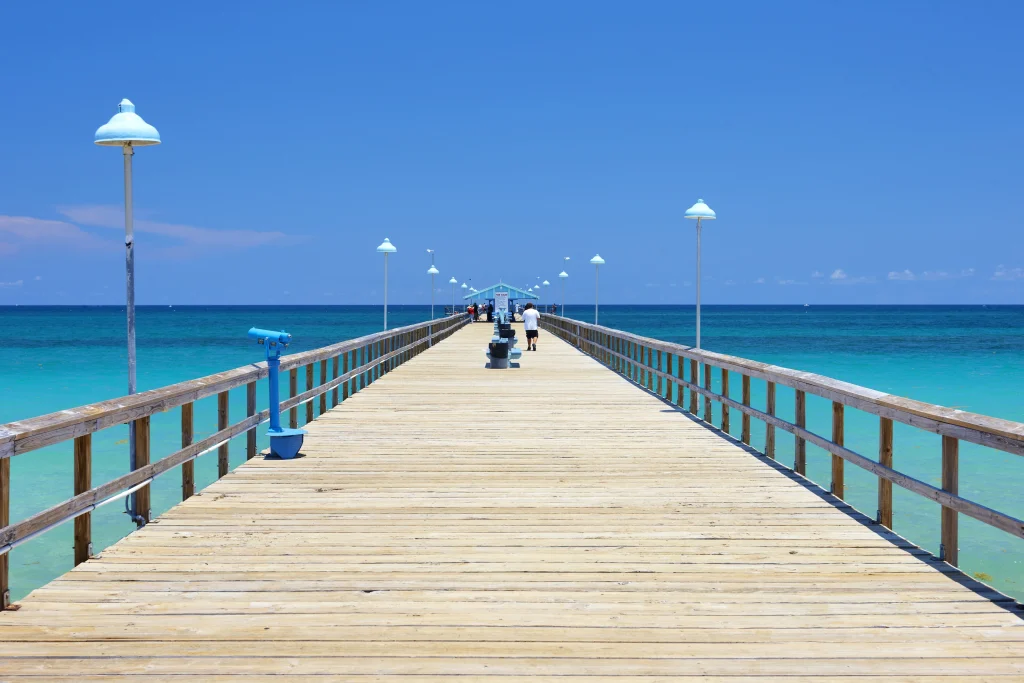 7. Deerfield Beach: Map
Escape to Deerfield Beach, the destination for beach lovers and adventure seekers. This hidden gem in Broward County boasts pristine shores, unbeatable fishing spots, and a culinary scene that will tantalize your taste buds. Immerse yourself in white sand and turquoise waters, walk the iconic Deerfield Beach Pier, or indulge in a shopping spree along the bustling Deerfield Beach Boardwalk.
For nature enthusiasts, explore the tranquil Quiet Waters Park or embark on an adventure to Deerfield Island Park. With its inviting climate and charming atmosphere, Deerfield Beach is the perfect backdrop for a rejuvenating vacation or a much-needed weekend getaway. Take advantage of this tropical paradise!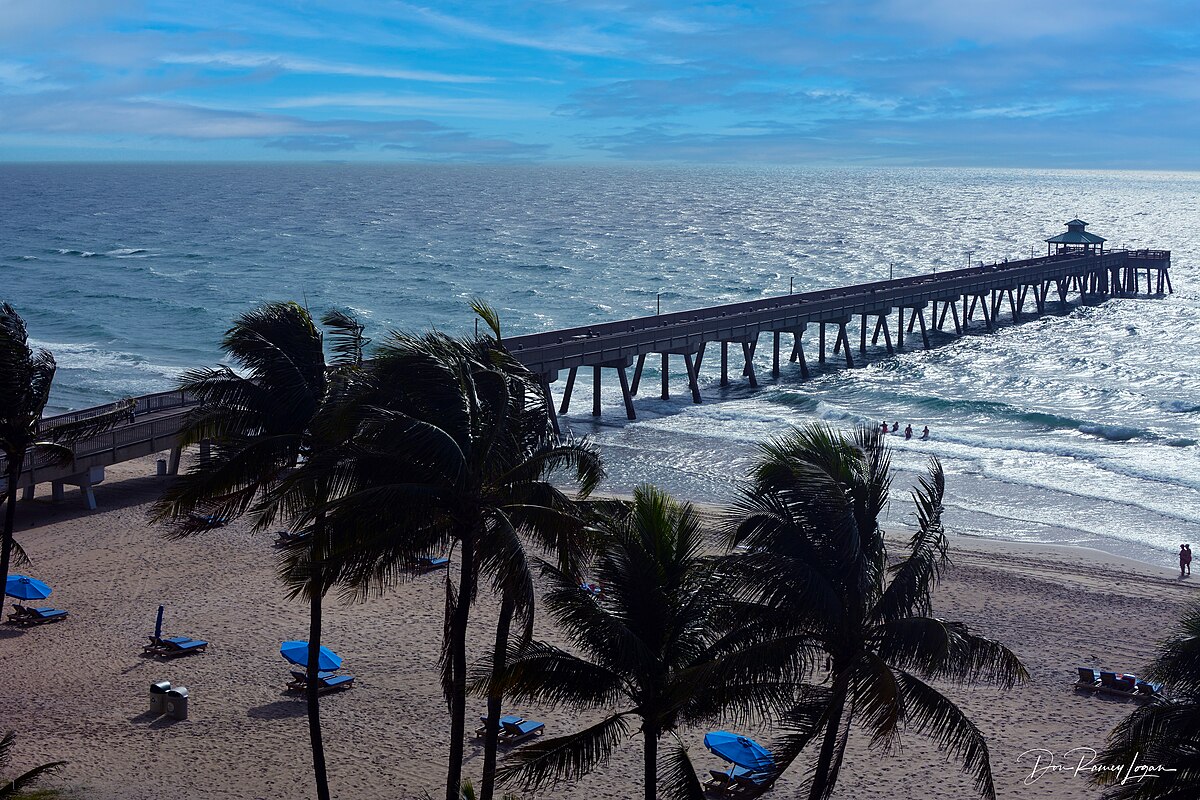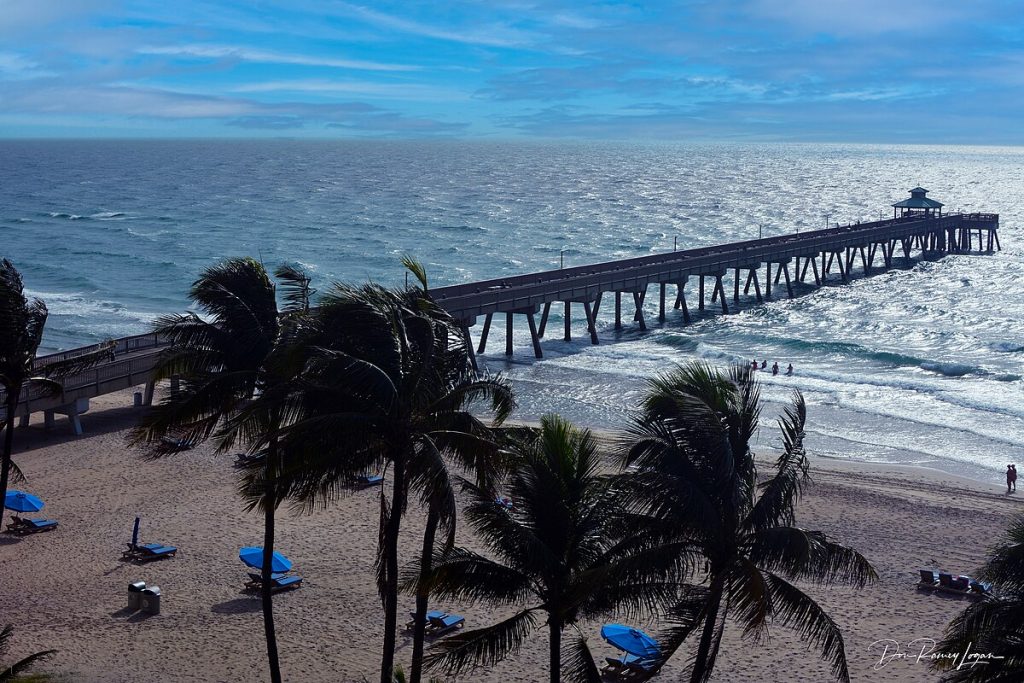 8. Hallandale Beach: Map
Welcome to Hallandale Beach, the coastal gem of Broward County, Florida! With stunning ocean views, vibrant nightlife, and beautiful parks, this city has it all. Hallandale Beach is the perfect vacation destination whether you're looking to soak up the sun or enjoy the refreshing ocean breeze. Take a dip in the crystal-clear waters, cast a line for exciting fishing, or sail on a boating adventure along our pristine beaches.
But it doesn't stop there – Hallandale Beach also boasts a rich cultural scene with local events, art galleries, and museums. With Miami and Fort Lauderdale just a stone's throw away, this city is the ideal location for locals and tourists alike. Experience the unforgettable charm of Hallandale Beach today.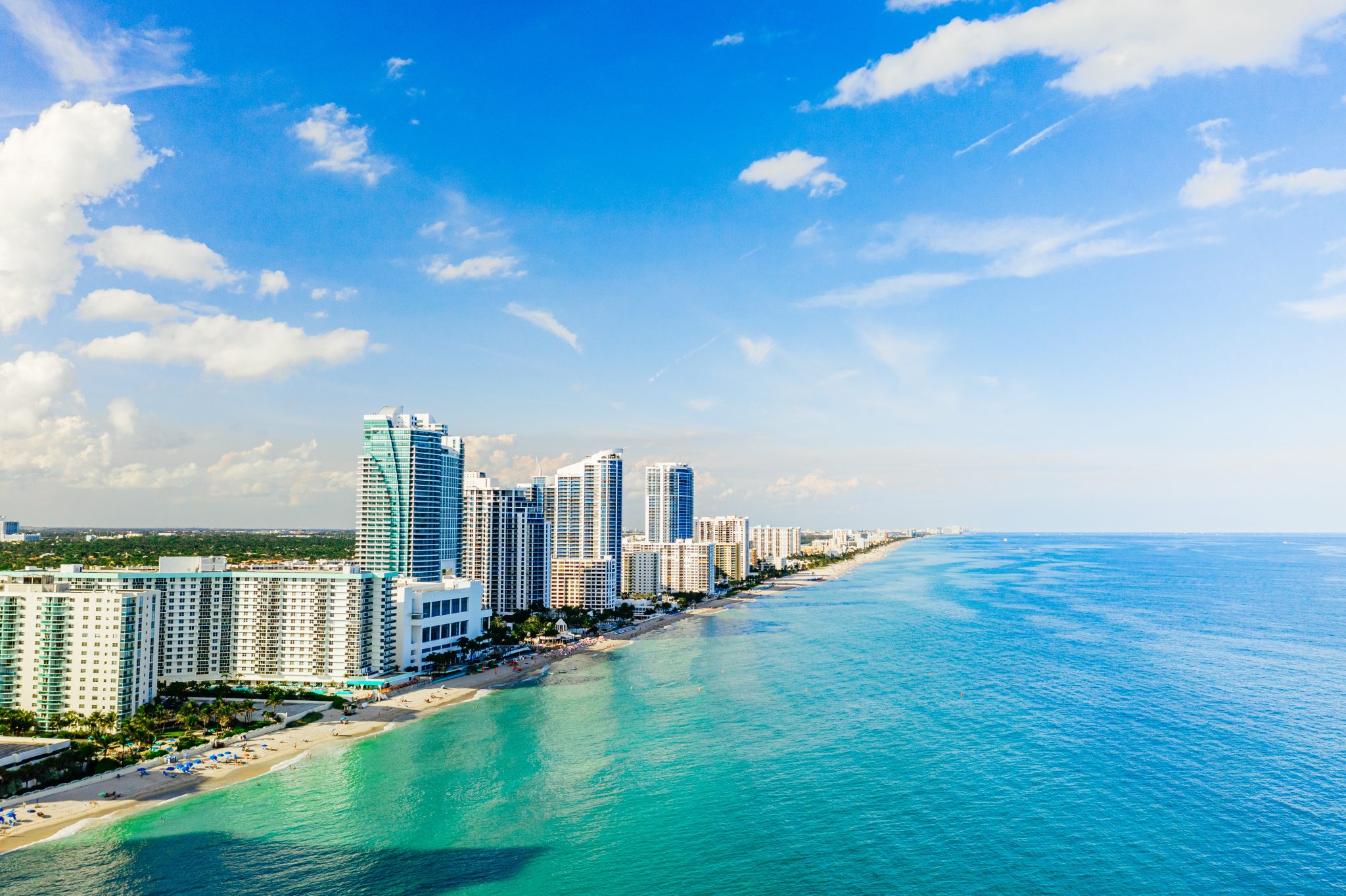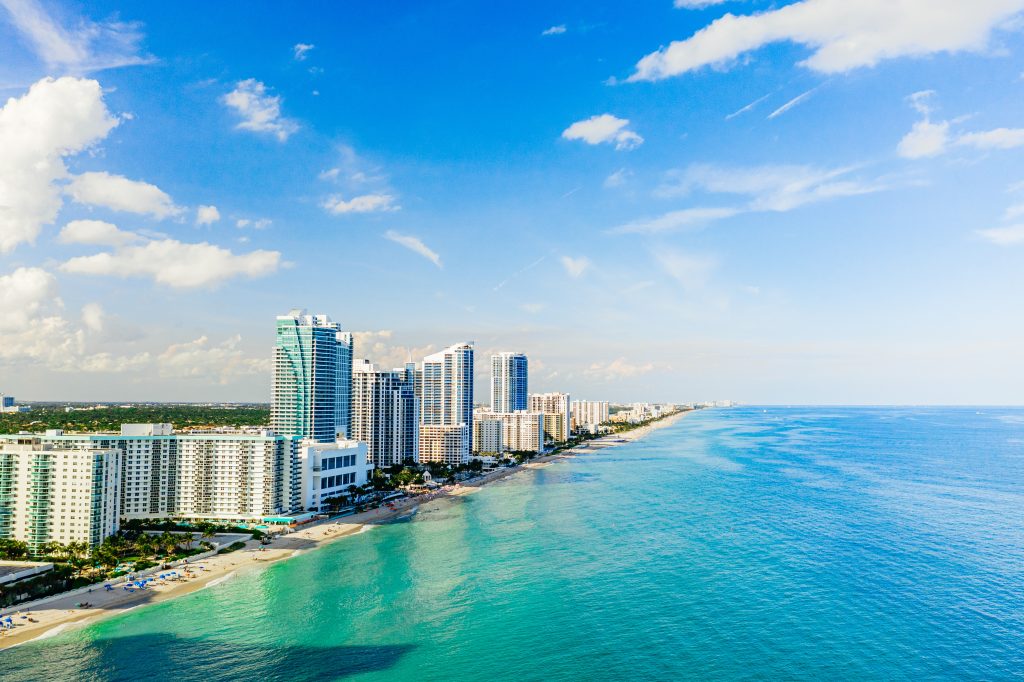 9. Hillsboro Beach: Map
Located in the northern part of Broward County, Hillsboro Beach is an exclusive and quiet spot away from the city's hustle and bustle. Discover the hidden gem of Hillsboro Beach, a charming coastal town that offers a picturesque sanctuary for all. Nestled between the Atlantic Ocean and the Intracoastal Waterway, this three-mile-long strip of land boasts stunning sandy beaches and crystal-clear waters. Experience luxury and exclusivity with upscale homes, exclusive residential communities, and lavish resorts offering breathtaking oceanfront views.
Hillsboro Beach promises a vibrant and convenient lifestyle near major highways, fine dining establishments, and endless entertainment options. Enjoy nature's wonders by witnessing sea turtles nesting during their nesting season. Whether seeking a tranquil beach getaway or a permanent residence in a prestigious community, Hillsboro Beach is Florida's coastal living at its finest. Come and experience the allure of this idyllic destination today.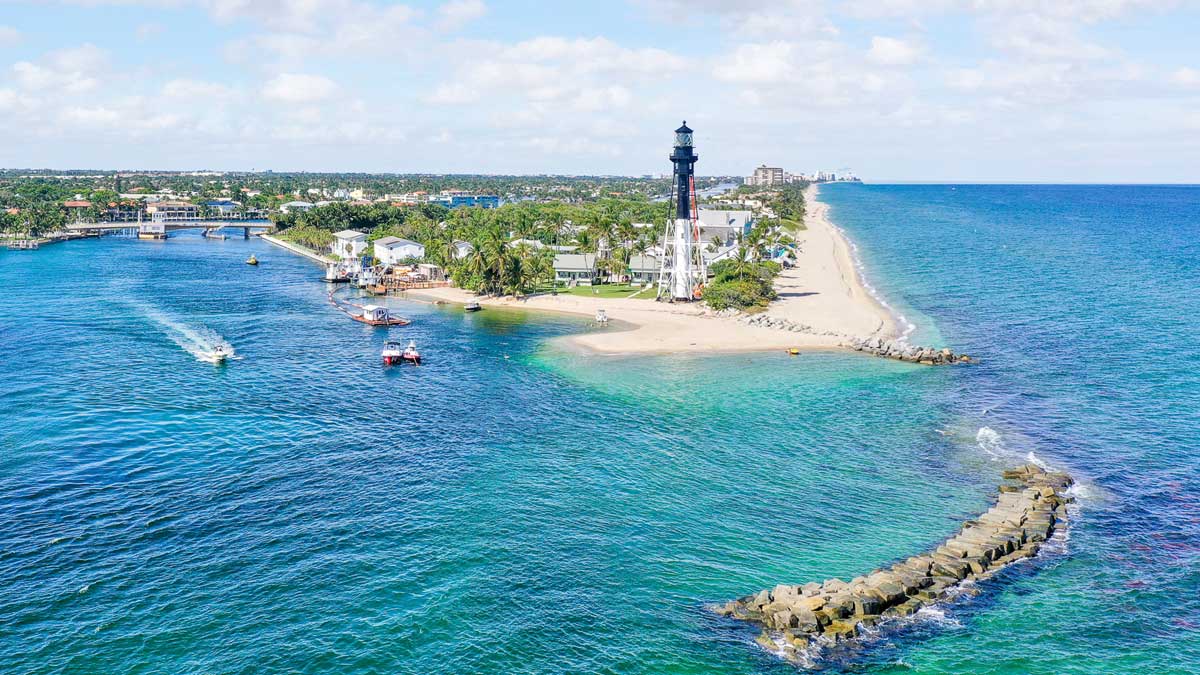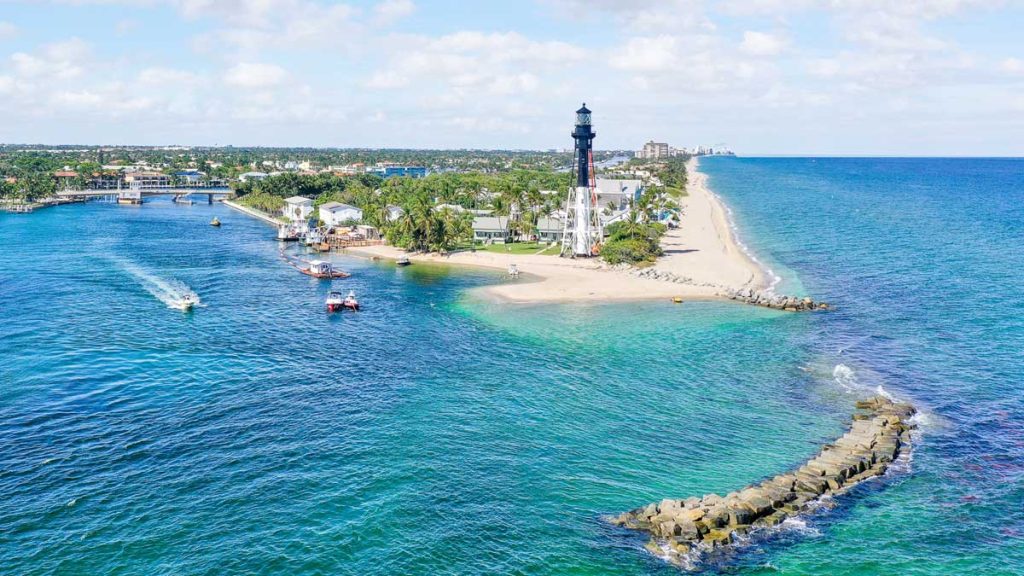 10. John U. Lloyd State Park: Map
Discover the coastal paradise of John U. Lloyd Beach State Park in Hollywood, Florida. This stunning state park spans 250 acres between the Atlantic Ocean and the Intracoastal Waterway, offering two miles of pristine sandy beaches. Dive into various outdoor activities, from swimming and sunbathing to picnicking and beachcombing. The park's vibrant coastal hammock and mangrove habitats are home to various bird species and wildlife, making it a must-visit for birdwatchers and nature photographers.
For water lovers, enjoy boating, fishing, kayaking, and paddleboarding in the park's calm waters. Cast your line in the designated fishing area or soak in panoramic ocean views from the jetty. Plus, explore the nearby Hugh Taylor Birch State Park for even more natural wonders. With its prime location, fantastic facilities, and breathtaking coastal landscapes, John U. Lloyd Beach State Park is the ultimate destination to immerse yourself in the beauty of Florida's coastline.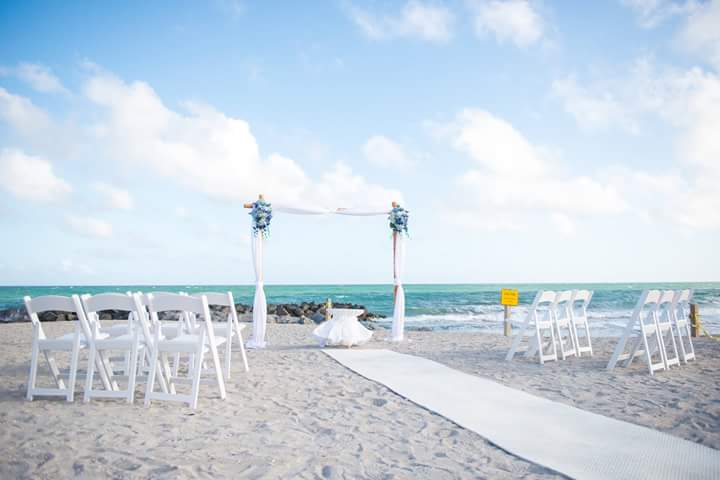 FAQs about the Best Beaches in Fort Lauderdale
1. What are the best beaches in Fort Lauderdale known for?
Fort Lauderdale's best beaches are renowned for their stunning white sands, clear blue waters, and vibrant beachfront atmosphere.
2. Are these beaches suitable for families?
Yes, most beaches are family-friendly and offer amenities like playgrounds, picnic areas, and lifeguards for a safe and enjoyable experience.
3. Are there water sports and recreational activities available?
These beaches offer a range of water sports like swimming, snorkeling, paddle boarding, and jet skiing, as well as opportunities for beach volleyball and sunbathing.
4. Do the beaches have nearby facilities and dining options?
Yes, the beaches are well-equipped with restrooms, showers, and convenient access to dining establishments, making it easy to spend a whole day there.
5. Are these beaches crowded year-round?
The level of crowds can vary depending on the season. While they tend to be busier during peak tourist seasons, the beaches are famous year-round due to Fort Lauderdale's pleasant climate.
Conclusion:
Fort Lauderdale has no shortage of beautiful beaches, each with unique charm. Whether you're looking for a lively atmosphere, a peaceful getaway, or a place for outdoor activities, there's a beach for everyone. So, pack your sunscreen, grab your towel, and enjoy the sunshine in one of the ten best beaches of Fort Lauderdale.